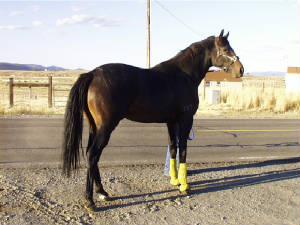 Political Power
2000 Thoroughbred Stallion
16 hands


Polly
Was unraced due to an injury that occurred as a 2 yr old in training, he might have recovered from that but then Bad luck dealt him a career ending injury. He is a beautiful mover with nice size and balance. Polly is throwing some super nice foals on quarter horse mares and has colored foals on paint mares as well.

Bertrando 1993 eclipse award winner for Champion Older Male

with earnings of over 3 million dollars he has went on to prove himself in the breeding barn as well.
2005 leading California sire with worldwide earnings of nearly 4 million dollars and the only California bred stallion to have California bred pogeny earnings and northern hemisphere earnings surpass 3 million dollars.
2006 update
Bertrando appears to be an excellent broodmare sire and is currently the #1 Miler Broodmare sire in Cal. by Sire Production Index. He's a little upside down at 1.55 AEI VS 1.75 CI, but has consistently gotten quality runners including the #2 leading 1st Crop Sire in N.A., "Officer".
GOLD ALERT (1983). Stakes winner of $291,939, Eclipse S. [G3], etc.
Sire of 13 crops of racing age, 327 foals, 263 starters, 12 stakes winners,
222 winners of 969 races and earning $13,460,360/$217,023
(CAN) in N.A./U.S., including champions Jed Forest (Premio Presidente
de la Republica, etc.), Still Alert, and of U Can Do It ($738,642,
Shirley Jones H. [G3], etc.), Mil Kilates (10 wins, $630,098, in N.A./U.S.,
Pimlico Distaff H. [G3], etc.). Sire of dam of champion Durango
1st dam
Miss Gold Peace, by Gold Alert. 8 wins, 2 to 5, $181,349, 2nd Grecian Flight
S. (MED, $6,650), 3rd Personal Ensign S. [L] (MTH, $5,500), Tropical
Park Oaks [L] (CRC, $5,500).
2nd dam
PEACEFUL RIVER, by Peaceful Tom. 14 wins, 3 to 6, $250,990, Canterbury
Mile H. [L], Quivira H.-L, Apple Valley H. [O], Harvest H., 2nd Ak-Sar-Ben
Queen's H.-G3, Quivira H.-L, Al Swihart Memorial H., Spring H., Harvest
H. [N], Warren G. Albert H. [N], 3rd Goldenrod S. [O]. Dam of--
Miss Gold Peace (f. by Gold Alert). Stakes-placed winner, above.
Peaceful Terms. Winner at 3, $6,302.
Full of Peace. Winner at 4, $4,600.
3rd dam
RUSH RIVER, by *Sir Ribot. Winner at 2, $4,628. Dam of 7 winners--
PEACEFUL RIVER. Stakes winner, above.
Scarlet River. Winner at 3 and 4, $20,669, 2nd KTA Derby [NR].
Tarush. 6 wins at 4 and 5, $13,142.
June Rush. Winner at 4, $11,781. Producer.
Sir Magestic. Winner at 4, $4,265.
Sir River. Winner at 4 and 5.
Bold Rush. Winner at 3. Producer.
4th dam
Miss Thing, by *Sea Charger. 4 wins in 8 starts at 2, 2nd Maryland Futurity,
Pimlico Breeders' S. Dam of 6 foals, all winners, including--
Ivy Hill. 4 wins at 4 and 6, $15,315. Dam of 9 foals, all winners, including--
WHAT A MICHAEL. 9 wins, 2 to 5, $152,468, Southern Maryland H.-L,
E. Palmer Heagerty S.-R, 2nd Maryland Futurity-R, Senatorial S.-R,
3rd Star de Naskra H.-R, Lansdale G. Sasscer S.-R.
Dashing Dennis. 3 wins at 2 and 3, $67,610.
Another Michael. Winner at 2 and 3, $61,760.
Steel 'n Velvet. 11 wins, 3 to 5, $59,900. Dam of Frankies Magic (3rd
Oklahoma Thoroughbred Futurity Final [NR]).