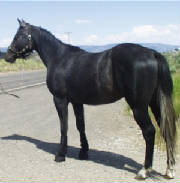 These photos taken as a 2 yr old.
Texas SkipaStar
SOLD To Bare Angus Ranch in Protection, Kansas

we will miss Texas, he is a wonderful young stallion but we feel he has a much better opportunity to produce to his potential with the Bare family than he did with us. The last 2 foals born in Oregon were both Grays.

2004 AQHA Grey Stallion

(Base color is Black)
Texas is a super nice colt, with the gentlest of dispositions Due to selenium deficiency (this is the reason we were able to purchase him) he will never get to be ridden. His pedigree has proven bloodlines both under saddle and in halter. His sire is full sibling to a top ten all time halter point earner and His dam comes from some well known cowhorse bloodlines. His first foals are well put together with great dispositions.